Architects & Engineers Use aquaTIGHT® Grout Additives
Architects and Engineers have come to love implementing our patented spray on grout sealer technology into their designs, offer solutions to their clients, and offer strong value with engineering consultation. We are proud to offer high-tech solutions to the engineers, ACI, AIA and CIS professionals in the construction industry. Email us or send us your contact info and an AquaTight professional will be happy to discuss your project.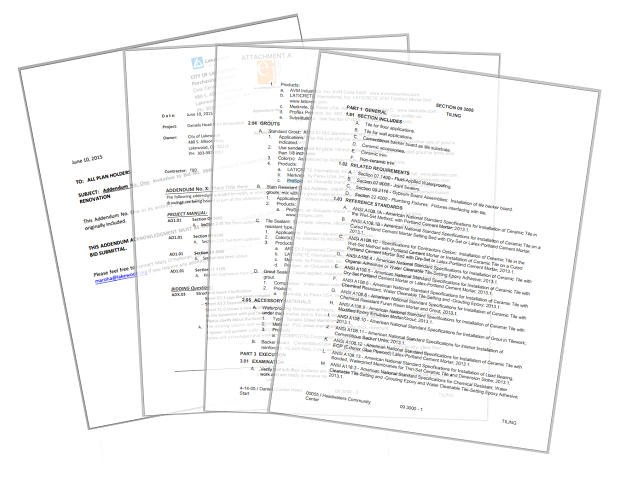 Todays commercial and residential construction projects require grout additive products which can outperform long after you have completed the project. Simply put, our credo "Done Once, Done Right",  the projects you design demand the very best technology; which is why architects rely on AquaTight high-performance additive and sealing technology. We are proud to offer high-tech solutions to the concrete, grouts sealers and mortars industry. AquaTight patented multi-faceted sciences are designed for any vertical or horizontal construction installation process.
Our patented technology has been used and installed into retirement villages, schools, hospitals,  community centers, mixed-use living shopping centers, government buildings; VA and EPA locations.
---
Reasons why you should use AquaTight Spray on Grout Sealer
---
Applicable Specification

Standards

American National Standards Institute (ANSI) ANSI A108.10 and A118.6 of the American National Standards for the Installation of Ceramic Tile.

ASTM International (ASTM) – ASTM C627 Standard Test Method for Evaluating Ceramic Floor Tile Installation Systems Using the Robinson Type Floor Tester. Tile Council of North America (TCNA) – TCNA Handbook for Ceramic Tile Installation, TCNA Method EJ171
TCNA
A118.1 Standard Performance ThinSet Mortar; TCNA A118.4/A118.11 Standard PerformanceThin-SetMortar; or TCNA All8.4/A118.11 ASTM C1803 Standard Guide for Abrasion Resistance of Mortar Surfaces Using a Rotary Platform Abraser
Taber Abraser (Abrader) – Test Methods
ASTM C744 Standard Specification for Prefaced Concrete and Calcium Silicate Masonry Units
---
Hydraguard over Level Set Wear Topping White as a Densifier Replacement for PolyLithium Silicate
Sanded with #40, 80 and 120 grid than added Hydraguard and let sit for 4 hours and 24 hours before putting in the taber abrasion machine. Disk size is 4".
Sample of Level Set Wear Topping White Control, without sanding or densifier. After 800 cycles the disk had a wear of 1/8".
---